So, how was it for you? If you took part in the
UKS
Harry Potter Cyber Crop, then I hope you had as much fun as I did! It was my very first Cyber Crop and I know it won't be the last - I absolutely loved it! I was very lucky to have such an understanding family - D was on nights, so in bed during the day and out in the evening, but he cooked my my meals (he knew I would have neglected to eat otherwise) and made me copious amounts of tea to keep me going. Mom said she wouldn't ring unless I rang her so as not to disturb me and also lent me her fabby camera to take photos of my work over the weekend. Some inconsiderate b****rds decided to steal my Dad's car on Friday night, yet he was more worried about me missing a class than giving him a lift to pick up the hire car. At this point, I should really just do this: *BIG WAVE!!!!* to my parents, who are now avid readers of this here blog (yep, I finally told them!).
And so, now I'm going to bore you with what I did over the weekend. All the classes can still be found and downloaded on UKS...
This was where I lived from Friday afternoon until Sunday evening! I moved lots of my stash downstairs so I could be near the PC, printers and Craft Robo, as well as the telly! Not that I watched much in the end... It all looks quite tidy here.
The LO on the right was the first class that I did and I think is my favourite LO of the crop. I used Doodlebug paper and Kissy Fit sequins, plus some grosgrain ribbon. The title and the frames were cut on the Craft Robo. The journalling reads: "September 2nd 2005. I married my best friend. Magical doesn't even come close."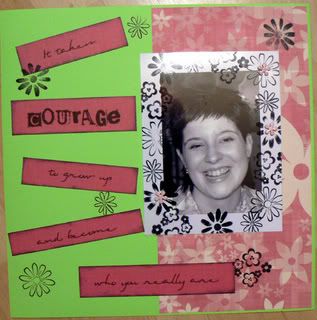 This LO is for the 'Notions and Potions' class and was all about using stamps on acetate to make a frame for your photograph. I wasn't going to do this one, but had some spare time, so dug out some stamps that had come free with a magazine and this was the result. The journalling reads: "It takes courage to grow up and become who you really are". (ee cummings).
This one was for a challenge entitled 'Marauder's Map'. The challenge was posted at midnight and I was a bit too tired to work on it then, so I went to bed. Of course, I lay awake thinking of possible layouts and wasn't able to sleep for ages. I then got up at 6.45 and got straight to work! I'd wanted to scrap this picture of D on Waikiki Beach for ages, so this seemed like the perfect opportunity to do it.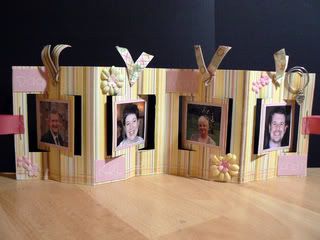 This fabby concertina-type card on the left was for the 'Diagon Alley' class and was one of my favourites of the crop. I used piccies of my parents, brother and me and will, at some point, journal a piece about each on the reverse. I used Crate Papers (ouch!! Killed me to use it!) and lovely ribbons, plus a few Primas and a clip with a teeny heart charm. I can see me making lots of these in future and they'd make great Christmas cards.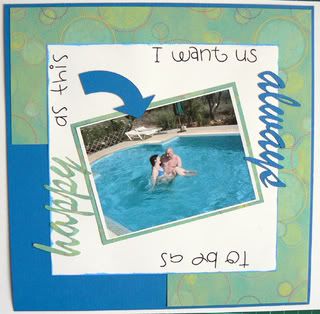 The next LO was for a challenge to scrap your hopes for the future. I love this photo of D and me - we are oblivious to the camera and so totally having fun, and that's how I want it to be always for us. I scrapped on 8x8 and used some HOTP Sara papers and some Doodlebug All Mixed Up rub ons, as well as cutting the arrow and parts of the title with the Robo. (See how I get value for money out of it?!)
This LO was for 'It's Magic' and the class was to get us doodling some accents such as the quotation marks. I'm not totally happy with this one, as I think it needs some journalling, but I'm not sure if it will look right in the space that's left in the bottom left corner. I like the design of the LO though and may well use it again sometime.
The next LO was another class that I wasn't going to do - until I saw it. This was for
Shimelle's
'Magic in the Middle' class and was all about not being afraid of leaving 'white space' on your layouts. Now, this is something I'm quite fond of anyway, so when I saw the class, I knew I wanted to have a go. I scrapped on 8x8 and used Rob & Bob Studio 'Scribble Floral' paper, an Angel Kiss bloom and a teeny bit of Basic Grey 'Gypsy' paper. The colour hasn't come out very well in the photo, but it's so striking in real life.
This next one is my least favourite of the bunch and I'm not sure I even should show it here! It was for the 'Wishes' class and the aim was to print a frame onto a transparency. There's too much empty space on here and it either needs some journalling or should have been done on 8x8 and not 12x12, but hey, you live and learn!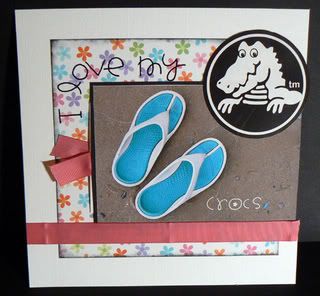 I really like this one! This was for the 'Bewitched' class, which was a sketch. I stuck quite closely to the original sketch, but it was a great opportunity to use this photo of my beloved Athens Crocs that was screaming to be scrapped. I used Paper Loft Flip Flops papers (how apt!) and some freebie ribbon, as well as a Crocs leaflet I picked up with a view to using it on a LO someday. There's a hidden panel under the photo with "10 Reasons You Gotta Have 'Em!"
Nearly there! This one was for the 'Herbology' class, which encouraged us to do some paper layering. I couldn't find a really big floral paper, so I used this instead and scrapped on 8x8. The photo is my lovely Mommy, cos I think she is 'Blooming Lovely'.
This little tag book was constructed at 7.30 am on Sunday morning, as my attempt at 'The Burrow' challenge - to create a LO or mini book about what you love about your home. I used tags cut from a Sizzix die and decorated with some All My Memories papers that were sanded and inked. I printed out various 'home' quotes and added some Primas and ribbons to finish it off. Not bad for a quicky, eh?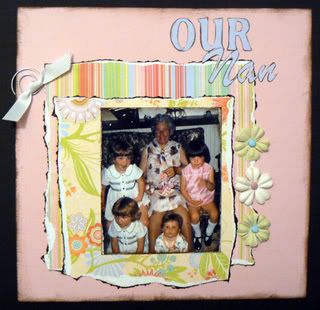 This was the last LO I completed and was for the 'Magic Mirrors' challenge, which was about distressing. As this is already one of my 'must do' techniques, I had to have a go at the challenge. I chose a photo of my Great Nan with her great grandchildren and mounted it on more Basic Grey Gypsy papers which had been torn and inked. I added a clip and some ribbon, plus a few Primas and brads and a title cut with the Robo.
And, last, but certainly not least, is my flip book for the 'Spellbound Smiles' class from Tracey at
Little Cottage Crafts
This was another class I wasn't going to do, mainly because I didn't get the kit for it beforehand, but, once I learnt that I could make my own flip book from a sheet of 12x12 cardstock, I thought I'd give it a go.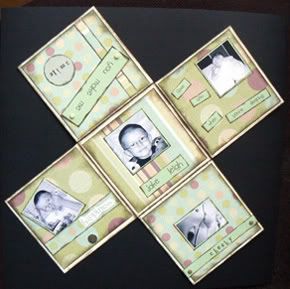 I used K&Co 'Studio K' papers and lots of photos of J to make the facets of the book. Accents were done with stickers, brads and phrases either printed or stamped onto matching cardstock. I think I'm going to give this to J's Mom for Christmas. I really enjoyed making this and am so glad I had a go at the class.

So, there you have it! I have been so busy, but I still can't believe how much I enjoyed myself just sitting in the same chair on my own all weekend! Although, I wasn't really alone - around 1000 other UK Scrappers were around to keep each other company; well done to everyone who took part and especially those who won prizes, even if the wrong house won in the end! Here's looking forward to the next one...