'Tis okay, fellow bloggers, I have not fallen from the face of the earth and you can all rest easy in your beds tonight! I have, in fact, spent the last week in glorious Devon -
here
, to be precise. A whole seven days in a field, surrounded by a load of total strangers all sharing a common interest in sleeping under canvas and performing ablutions in a portakabin.... No TV, no t'internet, no bunnies (!) and no privacy! And I have to admit, after all the moaning and complaining that I wasn't looking forward to it, I loved
every minute
of it
-
well, except for last night, when D, and one bloke from each of our neighbouring tents decided to hold a snoring contest... D found me in the wee hours dozing in the car with the gear stick wedged somewhere it shouldn't have been.
I won't bore you with the details of what we've been up to, suffice to say that we had a fantastic time and a real 'family' holiday - a few trips out and lots of time spent on the beach. It was lovely swimming in the sea on such hot days. We couldn't have asked for better weather. The pic at the top is Dawlish beach in the morning as the tide was on its way out.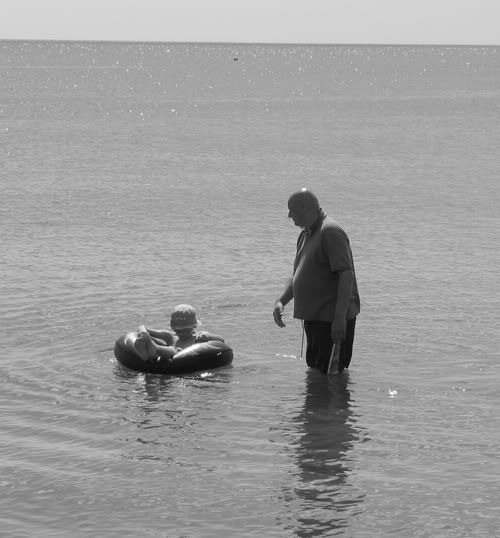 This is one of the boys in the sea, playing with the rubber ring D bought. "Best £2.99 I've ever spent" he kept repeating to me. Well, at least they had fun. The sea looks deceptively calm in this pic - most of the time there were some waves and we all took a tumble in the surf at some point!
We hardly saw J as he spent all his time on the campsite playing with all the other (hundreds) of kids. Actually, it was lovely to see him with other children, as he's an only child and we only ever really see him interact with adults. I found out that he's actually quite bossy and was definitely the ring-leader, which quite surprised me. We always knew where he was even if he was out of site as he seems to have inherited his mother's er, how can I put this, oh, okay, big gob!
So, today we returned, secretly pleased that the weather seems to have taken a turn for the worse but very sad that our little holiday has come to an end. I hate coming back from Devon as D gets really down. We both would really like to live down there someday and each time we go on holiday it strengthens our resolve, but we know we are stuck here for the time being. Hey-ho, back to 'real life' I guess... Still, I get to see my babies again tomorrow, when I go to retrieve them from
Louise
who has very kindly been looking after them for me. I dread to think of the havoc they have wreaked! Apparently they escaped their cage in her living room one night and jumped all over her poor, unsuspecting son who was asleep on the sofa....
I have managed to catch up on all the blogs, I think, but boy, you lot can natter! I will get round to posting comments when I can, but I am bogged down the next couple of weeks with a CJ, a memory book and a wedding order to complete - eeeek!!! I'll need another holiday afterwards!
To finish, here is an arty-farty shot I took of my beloved 'Athens' Crocs, which have not been off my feet all holiday and were great to wear in the shower (after all, you never know who was in there before you(!)). In the past week I have seen that the media has finally jumped on the Crocs bandwagon - I read about them in The Sun, Heat and Now magazines. Just remember kids, it was Lythan wot saw 'em first, then me, then the rest of the world !!